LUNA Workspace
The LUNA Workspace is a dynamic space for working with media. Viewing tools are built into each image which allows you to seamlessly work with multiple images at the same time. While LUNA's Detail View also provides you with embedded viewing tools in the image, the LUNA Workspace conveniently gives you the ability to work with multiple objects at the same time.
If you have selected an image to view in the workspace, you will see them displayed here. If you have not yet selected images to view in the Workspace, the page will be blank.
To add media to the Workspace:
While browsing LUNA simply roll over the media you would like to add and then and click on the Add the Image to the Workspace icon located in the upper left hand corner of the thumbnail.

While in the Detail View click on the Add to Workspace icon.
To work with media in the Workspace:
Zooming: zooming in and out on an image can be done by clicking on the "+" or "-" symbol, using the scroll wheel on your mouse, or by dragging the zoom bar left or right.

Move images around freely by dragging the gray frame around the image.

Directly access Presentations by opening the Slides Panel, located in the top left corner of the LUNA Workspace (must be logged in).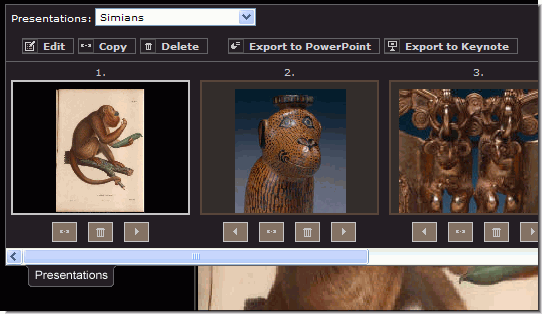 Directly access media from Media Groups by opening the Media Panel, located in the bottom left corner of the LUNA Workspace (must be logged in).

Use the Share This and Embed This functions to create dynamic links to the LUNA Workspace.